Tikduck Flying Orb Ball Toys Soaring Hover Boomerang Spinner Hand Controlled Mini Drone Cosmic Globe Spinning Kids Adults Outdoor Fly Toy Birthday Gift Cool Stuff for Boys Girls 6 7 8 9 10+ Year Old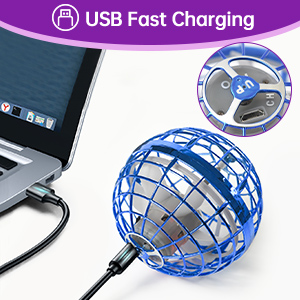 USB Fast Charging
Our flytoy pro comes with a USB charging cable. Simply connect it to a USB connector for 25 minutes to fully charge, and a single charge will give you a full 10 minutes of tricked out flight time.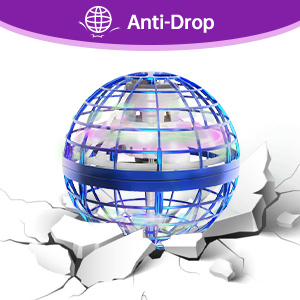 Anti-Drop
This hand operated drone toy is made of high-grade ABS material, which is lightweight and flexible, making it able to withstand countless crashes.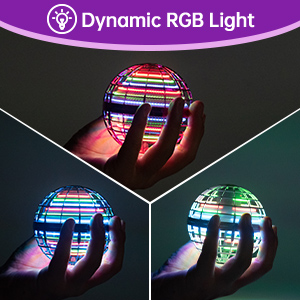 Dynamic RGB Light
With three dazzling-colored lights, your flying spinner will look like a neon shooting star when you launch it across the sky. If you really want to get some attention, practice your tricks at night when your flying ball spinner can light up the dark.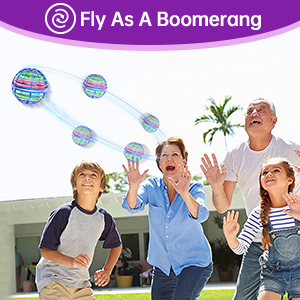 Fly As a Boomerang
Just throw the flying ball toy in the air and grab & flip it to stop movement. Its responsive design will cause the spinning UFO to fly in the opposite direction when your hands move close to it.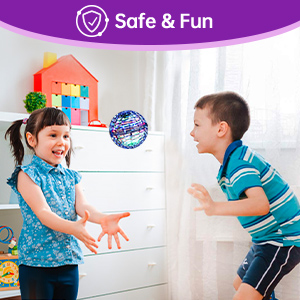 Safe & Fun
The propellers are safely concealed within the ball drone. The enclosed propellers cause no worry that children will be hurt by their blades. It's the best drone for children and beginners! This is a great choice for Easter, Father's Day, Mother's Day gift toys.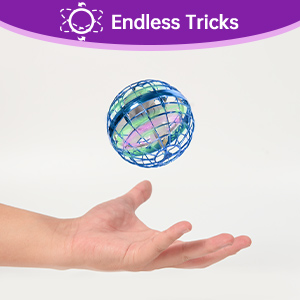 Endless Tricks
The Flytoy Pro Spinner can spin ultra-fast while hovering in place. Put your hand underneath the magic toy and follow the spinning orb as long as you can, for the feeling that you're redefining gravity. Who said magic wasn't real?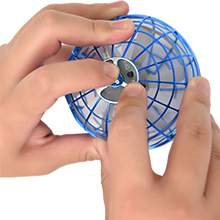 Shake to start
Turn on the power button and hold the mini drone upwards, then simply shake to start and give it a toss! You will quickly understand the infinite possibilities for flight of the magic toy.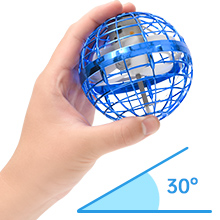 Fly back like a boomerang
When you throw it upwards 30° to get flying, it will spin around its axis perpendicular to the direction of flight and returns to you like a boomerang. You can throw it and catch it yourself.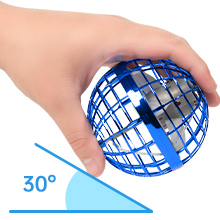 Travels straight line
Throw it downwards 30° to get flying. It will fly travels steady in a straight line. It is perfect for catching the ball back and forth with friends.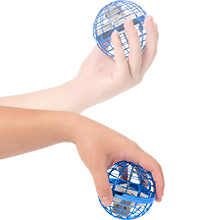 Shake to stop
If you want to stop playing, just shake hand-controlled drone and stop the spinning. It's easy and safe. The enclosed propellers design protects your hands while spinning.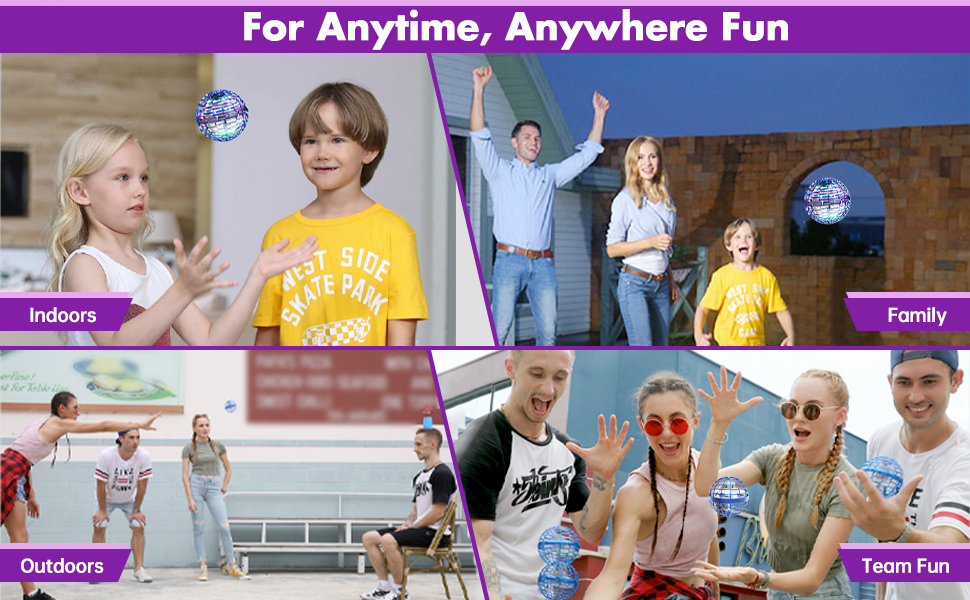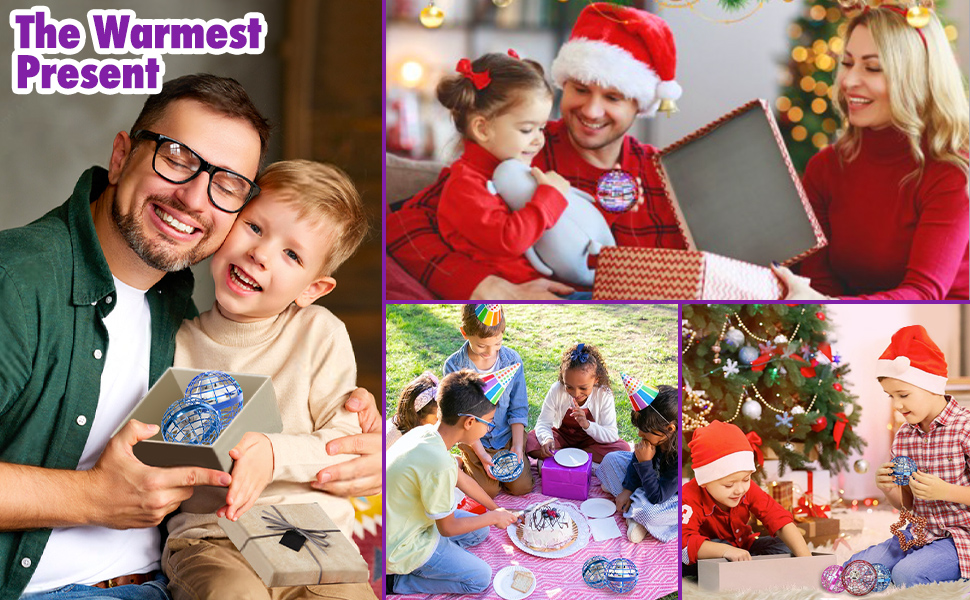 There are some tricks that need take some time to practice, but you will find it fun once you get hang of it.
– Press the black switch on the end to turn the flying orb ball on. You may need to gently spin the propeller to align the switch through the bars of the protective cage to access it. When pressed, the LED lights will turn on. When you want the flying orb ball to start flying, shake or firmly tap the ball to activate the propeller.
When you want to stop flying orb ball, just grasp it and firmly shake it up and down several times, which will deactivate the propeller. It will also stop flying after it bumps into an object and falls to the ground. When the propeller is not spinning, but the LED lights are on, you can locate the black switch and press it in the same manner for turning it on in order to turn it off.
The flying orb ball is sensitive to small deviations in angles when tossed. Before tossing the orb, make sure it is oriented correctly in the UP position, which is indicated by the on button being at the top. When you toss the orb, toss it gently and without too much strength as the motor and propeller will provide movement.
– Straight Line Boomerang: Grasp the spinning flying ball at the center with your hand, "up" facing upwards, then throw it from the ground by a 10-20 degree angle with the "up" side facing your body yourself. With some practice, it will fly back to you as it follows its original flight path after the flying ball reaches its maximum height.
– Magic Levitation: Levitation is a skill that takes time to master as it requires balancing the orb over your hand while it is flight. After you have turned on the flying orb and it is oriented up, hold it with one hand as the propeller is moving and then place your other hand, palm side up, underneath the orb. You will feel wind from the propeller. Using your top hand to brace the flying orb, gently release it and try to balance it between your two hands until you can eventually follow and balance its movement using only one hand underneath it. With enough practice, levitation will become easier.
Important Points: When flying orb ball leaves your hand, the "up" side (with the on switch) is the flight direction of the flying orb ball. By giving the ball different levels of throwing force and and different tossing angles, the ball will have different flight paths. Of course, the speed of the propeller is limited by the motor to avoid it flying vertically too high into the sky.
Current Price :  
₦20,000
Order now before price goes back to ₦35,000in:
Offer Valid while stock lasts
 Please note that our delivery takes 2 -5 working days outside Lagos and 24-48 hours within Lagos
We offer Free Delivery Nationwide
Please note that all orders require a commitment fee of 

N3,000

 to
enable us process your order and the balance will be paid on delivery
COMPANY ACCOUNT :

 

USHERLLY GLOBAL NETWORK. 0660183609 .G.T.BANK
Call/Whatsapp us for more enquiries on 08111126087.
PLEASE IF  MONEY FOR THIS ITEM IS NOT AVAILABLE YET, PLEASE DO NOT FILL THE FORM!
Please don't joke around with ordering if you don't mean to buy this product.
This is someone means of livelihood.
BUY WITH
CONFIDENCE
We truly believe in the best customer support, that is why we will do whatever it takes to make sure you have a positive purchasing experience. We respond within 24 hours of calls and emails and will make sure all your concerns are answered ASAP.