MOBILE PHONE SCREEN 3D MAGNIFIER HD
2021 3D MOBILE PHONE MODEL
10″ Screen Magnifier –3D HD Mobile Phone Magnifier Projector Screen for Movies, Videos, and Gaming–Foldable Phone Stand with Screen Amplifier–Supports All Smartphones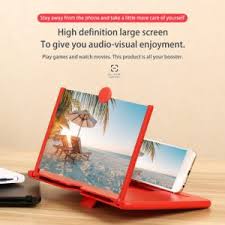 3D HD Screen Amplifier : HD vision, eye protection against blue radiation, no power. It will relieve the discomfort and visual fatigue causing by long time focusing on small screen.
Comfortable Viewing Experience : The screen magnifier works just like a phone projector screen, effectively doubling the size of your screen so you can enjoy movies and videos on your smartphone to the fullest in HD.
Folding Design : HD screen magnifier Storage type rotating folding design. If the height is not enough, height can be adjusted with the ring stand. Super slim when folded and also can be carried around in your bag. Suitable for indoor, camping, journey, leisure, anywhere and etc.

Compatible With Your Device : The screen magnifier is specifically designed to fit most smartphones,such as iPhones Xs Max/XR/X/8/8 Plus/7/7 Plus/6S, Samsung Galaxy Note 10/9/8/7/6/5 Edge Android phone smartphones.
Featuring an HD zoom optical technology, the screen magnifier magnifies your screen at two times its size, retaining a crisp and clear image, without the need of a battery. Furthermore, if you enjoy mobile gaming, use the screen amplifier with a wireless keyboard, and turn your smartphone into a gaming station! The screen amplifier is incredibly portable and lightweight so you can easily fold it and take it anywhere you go!
Some of the great features of our phone stand screen amplifier:
No battery needed, so you never have to worry about recharging your screen magnifier;
Comfortable, the screen amplifier will relieve fatigue from your eyes, and will let you enjoy incredibly comfortable viewing;
Widely compatible, you can use the screen amplifiers with any smartphone, whether you have an iPhone, Samsung, or another Android device;
Guaranteed satisfaction, Watching videos and movies on your phone has never been more comfortable!
More and more people use their smartphones to watch videos or movies, however, it gets incredibly uncomfortable to watch a small screen for longer periods of time, and it can even damage your vision. If you often watch videos and movies and are tired of uncomfortably staring at a small screen, our screen magnifier is perfect for you.
Current Price For 10 Inches:

 
₦12,000
Order yours now before price goes back to ₦15,000 in:
Offer Valid while stock lasts
Current Price For 14 Inches:

 
₦16,000
Order yours now before price goes back to ₦22,000 in:
Offer Valid while stock lasts
    Please note our delivery takes 2 -5 working days
We offer Free Delivery Nationwide
Please note that all orders outside LAGOS require a commitment fee of N2,000 to
enable us process your order and the balance will be paid on delivery
Call/Whatsapp us for more enquiries on 08111126087.
PLEASE IF  MONEY FOR THIS ITEM IS NOT AVAILABLE YET, PLEASE DO NOT FILL THE FORM!
Please don't joke around with ordering if you don't mean to buy this product.
This is someone means of livelihood.
BUY WITH CONFIDENCE
We truly believe in the best customer support, that is why we will do whatever it takes to make sure you have a positive purchasing experience. We respond within 24 hours of calls and emails and will make sure all your concerns are answered ASAP.
WE URGE YOU TO BE READY TO RECEIVE YOUR ORDERS AS SOON AS WE PROCESS THEM AS SOON AS POSSIBLE
OUR GUARANTEE!!!
WE DO OUR BEST TO FIND THE MOST UNIQUE AND INNOVATIVE PRODUCTS WE CAN FIND, AND TO MAKE SURE THAT YOU OUR CUSTOMERS, ALWAYS HAVE THE BEST EXPERIENCE WHEN SHOPPING WITH US.
IF FOR SOME REASONS YOU DO NOT FIND A POSITIVE EXPERIENCE WITH US, PLEASE LET US KNOW AND WE WILL DO WHATEVER WE CAN TO MAKE SURE YOU ARE 100% SATISFIED WITH YOUR PURCHASE.
SHOPPING ONLINE CAN BE INTIMIDATING BUT WE ARE HERE TO MAKE THINGS EASY FOR YOU. WE ALSO WANT YOU TO REALISE THAT THERE IS ABOSLUTELY NO RISK IN BUYING SOMETHING FROM US AND TRYING IT OUT.
WE HAVE OUR 24 HOURS SUPPORT READY TO HELP YOU IF YOU NEED ANYTHING AT ANYTIME.