NOW YOU CAN WORK WHILE STANDING
SITTING / RECLINNING!
Folding Laptop Tables
This adjustable laptop desk stand can not only be used as a laptop stand but it also works as a standing desk, tablet stand, lap desk which can be use on the bed or sofa to prop up your laptops.
While working or simply watching movies on your system, it is very important to maintain a good and ergonomic position. This is in other not to hurt your back or neck muscles. This is why it is important to get a stand for your laptop. They are usually designed with a flat surface to place the laptop on, a hook to prevent the computer from falling, and an adjustable hinge to raise, lower, or tilt the laptop as you would like. Aside from this, they are also very useful when you have to work from your bed.
Without the use of these stands, the continuous use of laptops could bring about backaches, neck sprain or other body pains. This  laptop stand has a compartment for placing your keyboards at a level that is comfortable for you. One other benefit of these stands is that they provide the means or surface to keep a computing device in such a way that their bases are protected from water spillage.
Customize Your Sitting Standing Comfort, great for sitting and standing!
This ergonomic laptop desk stand is adjustable and tailor-made that ideally suits the height of its user individually in both standing and sitting positions.
This ergonomic laptop stand can be used as a lap desk while sitting, a standing desk for home and office, a TV tray for snacking , a playing table, or a working desk in your car and so on. Ideal for all situations.
The extraordinary locking button that can be set in full 360-degree angles to fit any body position, even laid-back on your bed. Just hold the button on the joints, change the position, and release the button to lock it in place.
Brings the Laptop Screen to Eye Level, portable laptop stand for desk
The benefits of HUANUO foldable laptop standing riser :
The laptop stand always offers the right viewing height;

Reduces physical strain in the neck, shoulders and upper back;

Increases comfort and improves productivity.
Detachable Mouse Tray
No matter you are getting used to the mouse on the right side or a leftie, a removable clamp-on mouse tray holder from the portable laptop Notebook riser is a great addition to make your laptop smooth and convenient.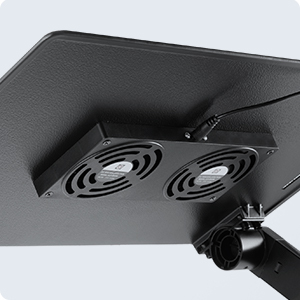 2 Built-in CPU Cooling Fans
This sturdy laptop stand is also lightweight and features USB-powered quiet cooling fans to prevent your laptop from overheating, which helps keep your laptop cool, running at optimal performance longer, and even prolonging the life of your laptop.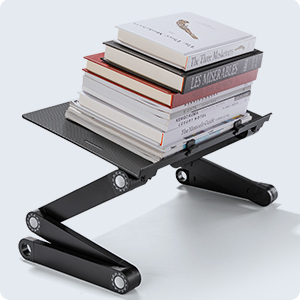 Powerful Weight Capacity
This laptop elevator is made of premium Aluminum, features a flexible adjustable swivel button to set a certain height of the legs and angle of placing the laptop. It is easy to install and strong enough to withstand as much over its weight.
Side tray to hold mouse,drink etc.

Compatible with your laptops and tablets.

Made from 100% Aluminum Alloy for firmness and stylish look.

Handy Usage: Multiple height and multiple angle adjustment to eye-level.

Designed for better storage organization, portability and convenience.

Use at office, home, or wherever work takes you.

Silent built-in fans cool down your laptop. Powered by USB cable(included).

Care instructions: wipe clean with clean damped cloth and this bed will look new for years to come. Avoid using harsh chemicals. 

Product dimensions: 22.0(W) x 1.38(H) x 11.4(D) inches
Current Price: 
₦20,000
Order yours now before price goes back to ₦30,000 in:
Offer Valid while stock lasts
    Please note our delivery takes 3 -7 working days
We offer Free Delivery Nationwide
Please note that all orders outside LAGOS, ABUJA AND PORTHARCOURT require a commitment fee of N2,000 to
enable us process your order and the balance will be paid on delivery
Call/Whatsapp us for more enquiries on 08111126087.
PLEASE IF  MONEY FOR THIS ITEM IS NOT AVAILABLE YET, PLEASE DO NOT FILL THE FORM!
Please don't joke around with ordering if you don't mean to buy this product.
This is someone means of livelihood.